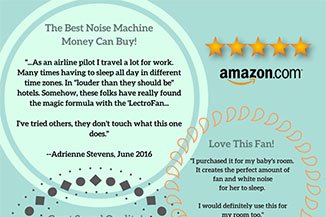 Featured Post: NetRush.com
In October 2013, NetRush entered a new partnership with Adaptive Sound Technologies, Inc. (ASTI), as the official Amazon retailer of their patented sound and white noise machine, LectroFan.
For us, the partnership was an opportunity to launch a great product at the start of its journey to market. We were similarly excited to be working with the intelligent tech company responsible for developing a product that did something so important, yet so difficult for many: facilitating sleep.
After selling over 100,000 units, we're thrilled to announce that LectroFan on the Amazon marketplace recently reached 4,000 customer reviews – and continues to grow. Even more impressive than the sales numbers is the near-perfect five-star rating that LectroFan has maintained over time.
In the Digital Age of 2016, public opinion is one of the most effective ways to measure a product's value and relevancy. LectroFan's track record is both a great indicator of LectroFan's sales reach across the nation, and a sign it is driving ASTI's mission: "Adapting audio and improving lives".
This fantastic milestone comes at another exciting point in our partnership with ASTI. At the start of the second quarter of 2016, NetRush will officially take over as the exclusive retailer of Sound+Sleep on Amazon, another innovative and patented system by ASTI.
To celebrate the milestone, we've collected a handful of our favorite reviews on LectroFan listing.
______________________________________
Better Sleep Through Science.
'LectroFan white noise and fan sound generator is loved because it's compact, features 20 different pure white noise and fan sounds AND comes with volume control!
'LectroFan is also extremely versatile. Use it for great sleep, to relax or protect conversations; Digitized, non-looping sound that helps you relax and tune out the world around you.
Learn more about 'LectroFan white noise and fan sound generator at www.lectrofan.com