LectroFan White Noise Machines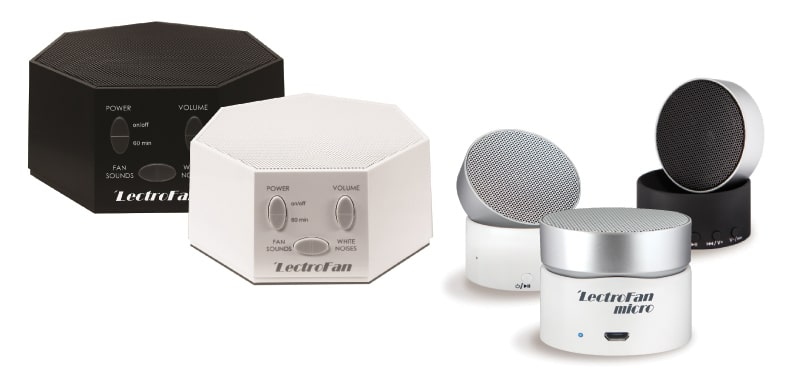 The world's most versatile line of fan sound and white, pink and brown noise machines
LectroFan and LectroFan micro Wireless are ideal for relaxation, study, speech privacy, or any situation where you'd like more control of your audio environment. They're also your personal white, pink and brown noise and fan sound machines for ensuring a better night's sleep and peaceful rest.
LectroFan micro Wireless: Designed for Travel
LectroFan micro is the world's only sound machine in a compact swivel design that gives you both sounds for sleep and a wireless speaker for enjoying ultra high-fidelity audio on the go. The innovative product design allows you to swivel the speaker for audio playback direction to be either upward or frontward. Enjoy multi-directional audio all with a fun, simple twist!
LectroFan micro offers ten unique digital sounds for better sleep and sound masking. You can choose from five different fan sounds and four variations of pure white noise (including pink and brown noises), plus an ocean sound. You can enjoy the flexibility of two power options to ensure your LectroFan micro is always charged, including a USB power cable option or simply use the internal rechargeable battery.
It's available in two styles: black and silver, and white and silver.
LectroFan: Our Classic White, Pink and Brown Noise and Fan Sound Machine
The best-selling LectroFan offers ten pure variations of white, pink and brown noises, plus 10 fan sounds. They're all unique, digitally synthesized and non-looping to mask disruptive noise. The included USB power cable and AC adapter connects to a wall outlet or any powered USB source.